In his career, Mark Weinstein has performed, composed and arranged straight ahead jazz, salsa, Afro-Caribbean music, tangos, Afro-Cuban jazz, bossa novas, African folk songs, and other types of World Music. In each situation, the flutist successfully turned the music into jazz and played in his own style rather than feeling that he had to merely recreate the original versions and traditional forms. For his latest project, Mark performs melodies from the world of Hasidic music, transforming the traditional pieces into creative jazz while retaining their essence.
"I was in Israel doing academic work with some Palestinian educators," remembers Mark. "At the time I met guitarist Steve Peskoff, we did some playing together, and it felt very good. A year later when I returned to Israel, I asked Steve if he could put together a rhythm section for this project. I had always wanted to perform Hasidic music. Their songs were written for people to sing, so they often have strong and unforgettable melodies. On these melodies, I don't play my flute in a post-klezmer style but instead create in my own voice, which is jazz."

Mark was very impressed by the players who Steve Peskoff brought to the project. "The musicians surprised me. I had played with percussionist Gilad Dobrecky in New York but Steve, his son drummer Haim Peskoff and bassist Gilad Abro are also superb players." The quintet quickly formed a tight and very attractive group sound that made it seem as if they had been playing together for years. Their concise solos, enthusiastic reactions to each other's ideas, and knack for embracing the traditional melodies while making the music sound fresh and contemporary, make this a special set of music.

The CD begins with Berditchever Nigun, a popular melody associated with the Hasidim from Berdichev a town in Northern Ukraine. Nigun is the Hebrew word for melody. Mark plays with plenty of spirit (he uses his technique to serve the music rather than vice versa) and there are spots for each of the musicians. Steve Peskoff's laidback guitar contrasts effectively with the energetic flutist.

Repozarás, which is played in 7/8 time, is a song for the Sabbath, which in English means "Thou Shall Rest." Mark solos over the infectious rhythm and comes up with consistently creative ideas that are complementary to the haunting melody. Mizmor l'David, a nigun of the Modzitz Hasidim, was composed in the middle part of the 20th century and is usually sung to the words of the 23rd Psalm. This adventurous treatment has modern harmonies contributed by Steve Peskoff (whose quiet but harmonically advanced solo recalls Jim Hall in spots), a heated improvisation by Mark, and close interplay by the drummer and percussionist both as accompanists and during their colorful tradeoff.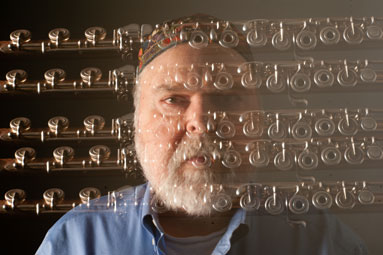 In addition to the five traditional pieces, Mark Weinstein contributed two originals and Steve Peskoff brought in one of his songs. Mark's Yaakov u'Malka is named after his parents Jack and Mollie Weinstein (Yaakov and Malka are their Jewish names) and is a lyrical waltz that stays melodic even when swinging hard. Peskoff's Adayin Chashoock (which in English is "It's Still Dark") is the most modern composition of the set, giving the quintet an opportunity to stretch out.
Ozidanie is a Russian waltz that was popular in the early part of the 20th century. As with the other selections, the music has been significantly re-harmonized, making it a very viable piece for jazz improvisation while keeping the melody close by. Mark Weinstein's Hebrew name is Meir and his Meir's Nigun is a scalar piece that challenges the musicians while being accessible to listeners.
The final selection, Breslov Nigun, is the most spiritual of the album. The melody, which closes the album, is often sung without words before studying the Cabalistic text, the Zohar. The musicians put a great deal of passion into this emotional performance.
One of the top flute players in jazz today, Mark Weinstein made his mark during the early part of his musical career as a trombonist. He was in Eddie Palmieri's first trombone section, wrote arrangements utilizing trumpets and trombones that became influential in defining the sound of New York salsa bands, and was an aggressive player whose Cuban Roots album (with Chick Corea on piano) is considered a classic. In the 1970s and '80s he changed direction, earning a Ph.D. in philosophy, becoming a college professor, and switching to the flute. "The flute gave me the possibility to play with much more harmonic complexity and subtlety than the trombone. My goal became to play with the drama of Miles Davis in the 1960s and the harmonic fluency of John Coltrane; they are my inspirations."
For the future Mark says, "I want to stay with Jewish music for a while, for there is so much more to explore. The Hassidic repertoire of music is enormous." One looks forward to future chapters of Mark Weinstein in Jerusalem.
-- Scott Yanow
Author of 11 books including The Great Jazz Guitarists, Afro-Cuban Jazz, Jazz On Film and Jazz On Record 1917-76.