Jazz Brothers. It's a rich vein in the history of jazz – Cannonball and Nat Adderley, Wes and Buddy Montgomery, Art and Addison Farmer, just to name a few. Now get prepared to hear the latest members of this illustrious fraternity. The O'Farrill Brothers, Zack on drums, Adam on trumpet, carry the O'Farrill family's musical tradition on into a third generation. They are following in the footsteps of their famous grandfather Chico O'Farrill (1921 – 2001), one of the seminal figures in the creation of Latin Jazz in the 1940s and 50s, and of father Arturo O'Farrill, the internationally acclaimed pianist, composer, band leader and 2009 GRAMMY winner.
The third generation O'Farrill Brothers find a whole new way to swing while they're at it! Along with Livio Almeida on tenor sax, Zaccai Curtis on piano and Michael Sacks on bass, listen to them burn through the seven originals and one cover contained on this debut recording. It appears that the world has already taken notice of the precocious talents of the brothers: in the summer of 2009, they made their international music festival debut performing as soloists at the Mount Fuji Jazz Festival in Japan.

They have also had the opportunity to perform with artists such as Stefon Harris, Imani Winds, Arturo O'Farrill, James Moody, DJ Logic, Randy Weston, and Curtis Fuller. In August 2010, Adam made his debut at the 2010 Carefusion Newport Jazz Festival Main Stage with his father's big band as a soloist, and is also an accomplished composer, being featured in the Symphony Space Composers Now program as the youngest composer. Drummer Zack has already performed in Switzerland at Marian's Jazz Room and the Fox Jazz Festival in Appleton, WI, and has performed in many NY venues such as Birdland Jazz Club, Smoke Jazz Club, The Kitano, and Dizzy's Club Coca-Cola. Together with his brother Adam, Zack had his indie label recording debut on father Arturo O'Farrill's 2009 ZOHO release "Risa Negra" ("Black Laughter") which both The Village Voice and Wall Street Journal named as one of the top jazz releases for 2009.

Pianist Zaccai Curtis opens the first track, Benny Golson's standard, Stablemates, laying out a broad platform for the band, which soon joins in for the tune's well-known melody. Adam steps out first with a nice solo reminiscent of Golson's bandmate Lee Morgan, Livio Almeida following on tenor sax with a smoky tone that floats nicely above the rhythm section. Trading off, the front line flies through the tune, the band regrouping to restate the main theme as the track fades out.

Livio Almeida's Face It starts with a short solo by bassist Michael Sacks. A quickly plucked Brazilian figure, it sets an upbeat tempo that Zack keeps stirring through the whole number. Curtis and Almeida each take expansive solos, well crafted and full of energy, before Adam comes to the front, driving the band as he effortlessly tosses off riff after riff. Sacks ends the number as he began, the pulsating figure reverberating, then slowing to resolution.

The playful, bouncy section that begins the disc's title track, Giant Peach, penned by Adam O'Farrill, is certainly expressive of the song's inspiration, the classic children's book by Roald Dahl, James and the Giant Peach. Things get serious soon enough, though, as Adam slides toward a Miles mode, punching out an aggressive solo that demonstrates his prodigious chops and eloquent phrasing. The band follows suit, with Almeida running some sinuous lines, Shorter-style. Curtis' solo here is one of the high points of the album – pensive and spare, a questioning tone at the keyboard. But don't despair, a happy ending is in store as the coda has the band returning to the brightness of the opening sequence.

Side Street is Michael Sacks' contribution to Giant Peach, and appropriately for a bass player, it pays heavy homage to the genius of Charles Mingus. The loose, bluesy melody, the sudden chromatic shifts, the honking horns are all here, Almeida taking a particularly funky break, redolent of one of Mingus' many collaborators, Rahsaan Roland Kirk. And be sure to check out Zack – clicking and clacking, popping all over his kit, then bringing it home big time for the bravado ending.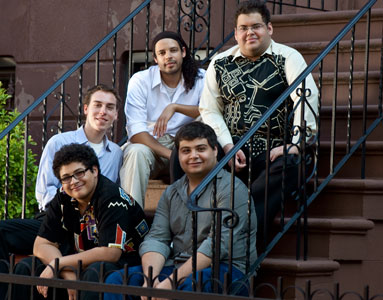 The second half of Giant Peach contains four songs written by Adam O'Farrill. As the title implies, The Composing Process is an etude, a study for jazz quintet. Instantly grabbing the listener's attention with an insistent, intricate passage that highlights the precision and cohesion of the band, The Composing Process then moves to individual instruments as trumpet and tenor voices are heard. An underlying Latin groove becomes more apparent, breaking through during the piano solo. Bass and drums are given their measure before the entire band attacks the main theme once again.

I don't think it was a bar that inspired Happy Hours – after all, its composer hadn't yet reached his 16th birthday when he wrote it! But Adam was clearly under the influence of something delightful when he came up with this number. Echoes of abuelo Chico's Cuba can be heard in the pulsing piano at the outset. Hard bop follows, and the tune then swings happily between those two poles.
Not sure about the title, but musically, Crazy Chicken brings to mind papa Arturo. The thick horn harmonies and the structural, almost suite-like, aspect of the composition, show the influence of the man who leads not one, but two big bands. Zack stretches out with a solo that has all the qualities of his drumming on the entire album – a preference for substance over flash, an easy grace as he glides across the drums, and a great feel for rhythm.

The final cut on their debut recording, Afterwalk, proves that the O'Farrill Brothers are ready for Freddie – as in Freddie Hubbard. The prettiest tune on the disc, both the writing and playing of Adam make it clear that Hub Cap is one of his heroes. But this is no mere imitation or emulation; it's more like an extension of ideas of Hubbard's essential musicality. And there's plenty of room here to afford Almeida and Curtis one last turn.

So "put the baby on the box"! I think you'll agree - the playing and writing is fresh and exciting, showing an astonishing level of sophistication and maturity for a band whose average age is barely 21. Bursting with energy, Giant Peach delights and surprises, conveying a youthful enthusiasm that comes as a breath of fresh air in the academic environment that is currently all too common in jazz. But that doesn't mean the O'Farrill Brothers aren't serious about their playing. A fierce musical intelligence is on display in Giant Peach, one that challenges the listener with complex compositions, intricate arrangements and subtle interplay. So move over, Wynton and Branford, step aside, Jimmy and Tootie, Giant Peach is a recording that makes it clear that a new set of jazz brothers have arrived on the scene. Zack and Adam O'Farrill are all in – in the groove, that is. And once you hear them swinging, you know they'll be sticking around. E. Penniman James

Recorded at Peter Karl Studios, Brooklyn, NY, on March 30 and 31, 2010. Engineer: Peter Karl. Mixed and Mastered by Peter Karl, Arturo O'Farrill, Adam O'Farrill, and Zack O'Farrill. Produced by Zack, Arturo, and Adam. Photography by David Leach. Package design : Jack Frisch. Executive producers: Zack O'Farrill and Joachim "Jochen" Becker.