Whether or not jazz is an inherently African-American art form - a topic of heated debate in our day - it seems clear that the music is headed for a polyglot, multicultural future. Take Sunny Jain, one of several exciting player/composers to emerge from the South Asian diaspora. The 28-year-old grew up in Rochester, New York, listening to bhajans (Indian religious songs) and Hindustani (North Indian) music. He was drawn primarily to the rhythmic element, so he took up the drums and soon became exposed to jazz and other sources of musical inspiration.
In 1993 Jain continued his jazz studies at Rutgers University, under Kenny Barron and Ted Dunbar. Along the way, Jain has played in bands led by singer Norah Jones, bassist Kyle Eastwood, guitarist Chris Bergson, and others. In 2002 he was named a Jazz Ambassador by the U.S. State Department and the Kennedy Center, and was given the opportunity to perform and lead music workshops in Africa.

Rez Abbasi, of Pakistani descent, plays amplified, solid-body guitar with an uncommonly pure and agile touch. He has also been working extensively with the seldom-heard sitar guitar, which we hear to great advantage on three tracks. Steve Welsh proves a highly complementary soloist, playing a no-nonsense post-bop tenor saxophone but also spicing up the sonic palette with a variety of signal processing effects. Gary Wang provides the bottom on acoustic bass, locking in with the leader on drums to create a capacious time feel, as loose and relaxed as it is unrelenting.

"Mango Festival" – an original of Jain's, begins with an upbeat groove but moody, dark harmonies, arpeggiated on the guitar. Abbasi solos, alone at first, until the band reenters at a slower tempo. Welsh incites a transition to swing time, ratcheting up the intensity. Jain witnessed a mango festival in New Delhi several years ago: "The event had musical entertainment throughout. A North Indian group performed classical Punjabi music. This song opens with a groove reminiscent of the groove played by the dhol [drum] player in that Punjabi band."
"As Is" - composed by Steve Welsh, who loops a winding sixteenth-note figure in real time under the melody. Virtuosic guitar and saxophone solos follow, over a somewhat restless rhythmic flow. The looped saxophone figure returns for the final melody statement.

"Masqualero" - a spacey, almost rock-oriented reading of the Wayne Shorter classic, with Abbasi on sitar guitar and Welsh on sound effects.

"Horizontal Pathway" – "This demonstrates a 20-beat phrase," Jain explains of this original. "The melody is played over six bars of 3/4 and a bar of 2/4. The second section is a rocking groove in 4/4 under the horn solo. The last section goes back to the 20-beat cycle, except the drums start out in 5/8, then shift to 4/4 and finally to 3/4." There's a hint of drum-n-bass when the odd-metered section returns. Abbasi solos passionately, with Welsh's background lines behind him. Welsh pushes the tune over the edge with his effects.

"Aap Jaisa Koi" - a lighter, more playful mood, as South Asian pop culture meets jazz improvisation. "This song comes from the 1980 Bollywood hit movie 'Qurbani,'" Jain reveals. "Virtually every Indian knows this song and this movie. It's a fun tune from my childhood. On this version I employ a popular Indian beat called bhangra."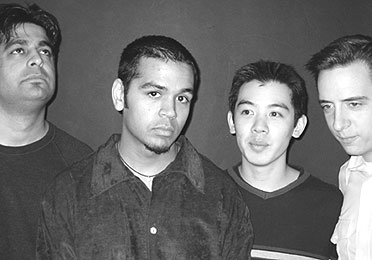 "Silent Marches" - Jain explains: "This arrangement is based on a bhajan called 'Raghupati Raghav Raja Ram,' which was popularized by Mahatma Gandhi during the freedom marches against British rule in the mid-1940s. I arranged this in a Hindustani three-part style with a jazz sensibility. Some hear it as Coltranesque. Coltrane was in fact heavy into Northern Indian music during the latter part of his career."
"MTA" - Steve Welsh's second contribution. This straight-eighth piece consists of two different vamps. The first begins and ends the piece, while the second, more prevalent vamp underlies probing solos by Abbasi and Welsh. Jain plays a series of solo fills over vamp number one toward the end. Welsh colors his instrument with the subtlest phase shifting effect.
"Longing To Know" - a straightforward, introspective ballad by Jain. "This song is a reflection of the frustration I faced growing up in a Western culture coming from a traditional Indian background. It's inspired by my search for identity during those years."
"Blu Vindaloo" - a Rez Abbasi original. Abbasi and Welsh state the knotty theme in harmony. From then on, the feel is wide open. We hear from Wang briefly as a soloist. "This song is similar to preparing a vindaloo (Indian spiced sauce); it's a melting pot of musical ideas and improvisation," says Jain.
Four diverse musical personalities, nine highly inventive tracks, complex yet bristling with an accessible pulse from the first note to the last. When he was younger, the world put its multifarious sounds into Sunny Jain's ears. Now Jain is putting his own sounds back out into the world. We're all the richer for it.
David R. Adler