Bazaars in Southeast Asia are hot spots and hubs of social activity, which seems to be the case worldwide. Whether in Asia, Africa or Europe, the Caribbean, the zouks of the Middle East or the malls of America, humans in all our fantastic variety love to gather amid shops and eateries to transact the intricate personal business that defines each of us. The specific individuals, like the colors, aromas and sounds that surround us, will be representative of a local culture, but there is an overarching similarity to these places. This must be because people share certain traits and practices across all geographic, ethnic or even religious divides.

The fundamental universality of human nature makes it possible for music, too, to reach across presumed borders –- and it makes music such as that on Bazaar by guitarist-composer-bandleader Rez Abbasi appealing to audiences every- and anywhere. Listeners understand the sounds of musicians playing together; their concentration, their gestures, their interactions and resulting sensory messages all come through. How does music communicate when so many other means of transmitting information and/or feeling fail? That's a good question, probably unanswerable without citing assumptions about music's pre-language history. But it's widely understood to be so, and Bazaar offers further proof that music is a language people instinctively understand. Something like the way children orient themselves in each new and different situation.

"To me", Rez adds, "the idea of a Bazaar conjures up feelings of joy and interaction. The colors are endless and vivid and the smells no less striking. As a child, in Pakistan, I remember going to the bazaars never knowing what to expect other than the unexpected. This is the quality I prefer to live with, particularly in the process of making or listening to music."

Abbasi himself is an example of cross-cultural comprehension, having been born in Karachi, Pakistan, but raised from age four in Los Angeles, which he left in 1988 for New York. Though there was traditional music in his childhood home, he paid more attention to rock (citing Rush, Van Halen and Hendrix as favorites) until his mid -teens, when he discovered Joe Pass, George Benson, Allan Holdsworth and finally Jim Hall –- who made the greatest impact on him, along with John Coltrane. After studying classical and jazz music from the University of Southern California and the Manhattan School of Music, his curiosity about his family's roots took him to India for a tutorial on rhythm with the legendary Ustad Alla Rakha.

"I'm interested in all music really," Abbasi says. "And that's the nature and philosophy of jazz. Creative jazz musicians move outside of their circles to explore, then bring that back into their own music."

Of course Rez Abbasi has filtered all the above-mentioned influences through his fingers to arrive at his distinctive touch on electric and acoustic guitars, and the hybrid "sitar-guitar," he uses as sparely as a strong spice. It has sympathetic strings affixed to its bridge; hear its chordal flourish and choked, almost banjoistic effect on the title track. His personal sound palette ranges from the deft and punctilious, as on "Leather", to the tenderly lyrical as on "Thin Elephant". He solos with a sure sense of direction; holding back, then building up, then letting loose ("Life Goes" for one instance), and becomes ever more masterful as organist Gary Versace and drummer Danny Weiss, his core collaborators, join in. Rez kicks out the jams with them, like at the end of "Hindu-Myth". He is equally at ease revealing his sensitivity on "Destiny Owes You". Throughout, Rez Abbasi sounds only like himself.


But furthermore, he makes wise use of his fellow players' talents to create a larger sphere of sound. Besides Versace and Weiss, Kiran Ahluwalia returns from this Abbasi band's 2004 recording debut Snake Charmer, and she's central to its concept. She's an Indo-Canadian vocalist to whom Abbasi is married and who he accompanies in her own world-touring ensemble. Ahluwalia focuses on the Indian genres of ghazal and Punjabi folk songs in her band, and in it Abbasi hews closely to Indian musical conventions. On Bazaar, however, he and she and the group stretch way out.

They never lose sight of their starting points– as each track of the program has a real-life reference. "'Leather,'" Abbasi explains, "is a dedication to the cow, a creature that many depend on, vegetarian or not…just take a look around or down at your shoes! 'Thin Elephant' is for the people of the Third World who are battling poverty and other life issues." In balance, he cites the motto: "Money comes and money goes, but 'Life Goes'." 'You People' is a simple shout-out, however "Hindu-Myth," he says, "was inspired by the orchestral music of German 20th century classical composer Paul Hindemith, and the insightfulness and clear vision of the great Joseph Campbell." Abbasi finds wisdom in sources far and wide. "Destiny Owes You," he says, "is a motivational affirmation used by the historical boxing trainer Cus D'Amato. He would say to his students, if you work hard enough, 'Destiny will owe you.'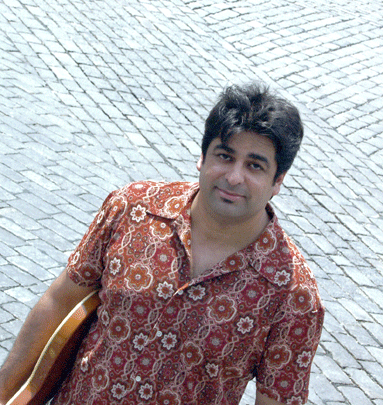 The breadth of Abbasi's inspiration sometimes invites guests to help realize it. He wanted saxophonists Rudresh Mahanthappa (alto) and Marc Mommaas (tenor and soprano) to add a sense of wind and breath to "Bazaar" and "Mid-Life". Naren Budhakar, professionally a tablaist, was enlisted to whistle on "Bazaar" – his tone is like something synthesized – and Gautam Siram's mridnagam is featured by itself on "You People," in an improvised folkloric way.
"Developing modern jazz through the musics of the world –- that's where my energy wants to go," Abbasi believes. "I don't want to separate genres and styles; I'd rather bring them together. I also don't want to pin myself down as only a jazz guitarist, but more as a versatile, universal guitarist," he states. "To create a world-based music steeped in jazz is my goal. Music is special because you can infuse all your influences into it. I hope to have a unifying affect."
In that attempt, his works combine cool virtuosity, languid mystery, spontaneous extrapolation and propulsive rhythms, underscored with knowledge originating outside of or beyond jazz's sources of blues and swing. "I'm not pushing the jazz tradition away," Abbasi says, "rather, I am following in the footsteps of some of the greatest jazz musicians. What Dizzy Gillespie did with Cuban music, how Coltrane used what he heard from India and what influences led Duke Ellington to write the 'Far East Suite,' –- that's what I'm shooting for, at least philosophically. Compositionally I like the folkloric, simple element as much as the exploratory, avant-garde element, and I'd like to continue to come up with music that's a balance of both. If that's accomplished, I've succeeded."
In Bazaar, Abbasi brings all the elements together, and we hear not the call from one merchant's stall competing with the cry from another's, but the myriad voices, noises, clang and blare arising, mixing, balancing and blending, returned to us by masters of sound as flowing depictions of people in action and culture undergoing change. As human nature is fundamentally universal, but each of us in individuals, we will all hear something but maybe each something different in this music. It speaks of certain irrevocable human rights, though: the right to curiosity that leads to exploration, the right of respect for difference as well as commonality, a respect that goes beyond tolerance to an understanding of difference that may lead to appreciation of it, and perhaps one's adoption of its best qualities. The world is a bazaar, Rez Abbasi might be intimating, and we profitably survey, if not go on to sample and acquire, each and every ware.
-- Howard Mandel
Howard Mandel is a contributor to Down Beat Magazine, and President of the Jazz Journalists Asscociation.
Produced by Rez Abbasi. Recorded by Michael Marciano September 2005. Mixed by Michael Marciano and Rez Abbasi. Mastered by Michael Marciano. Engineered at Systems Two, Brooklyn, NY. Photography by Jack Frisch Package design by 3 and Co., New York (www.threeandco.com). Executive Producers: Roger Davidson and Joachim "Jochen" Becker, Becker Davidson Entertainment L.L.C.