Welcome to The Björkestra's first ZOHO release, and the second installment to our discography. The band has been performing my arrangements of the music of Björk since 2004. Nearly eight years after we first performed at The Knitting Factory in New York City, we continue to be on an amazing journey. I feel blessed that I have been able to share my tribute to the uncompromising, visionary and bold work of one of the most important artists of the late 20th and early 21st Century--Björk Gudmundsdottir. The warm reception to our music from audiences from Montreal to Seoul, has inspired me to release this album that captures the energy and imagination of our band's live performances.
One of the questions that I frequently receive is "Why Björk?" Quite honestly, I've found it a very difficult question to answer. I usually say it has something to do with her unique voice, or her unusual and complex melodies, or her distinctive harmonies and grooves, which all lend themselves to further exploration within an improvised music context. Truthfully, I always feel like these explanations fall somewhat short of the mark. I think that maybe the simplest and most direct answer is that Björk writes great music, and it is music that touches upon something so universal and fundamental to our human experience that it defies genre. It is a music rich with ideas and innovation, and as Björk has demonstrated in her own career, an expression of an ever-expanding and evolving process.
I'm particularly excited about presenting this recording because it captures The Björkestra at its best in a live performance setting. Some of the songs you'll hear were also on our 2008 studio release Enjoy! (Koch Records) and here the performance has an extra bit of spontaneous vigor that demonstrates the high level of communication within this group. Simply put, The Björkestra's music sounds polished but with just that right amount of roughness around the edges.
I invite you to sit back and enjoy the sound of The Björkestra in free flight! Thanks for listening...

Hyperballad is the song that gave me the inspiration to write a big band arrangement of a Björk tune. The original version as heard on Post has a beautiful lyric, lush harmonies, and an abundance of gorgeous countermelodies that lend themselves well to a jazz orchestra and fertile material for jazz improvisation. I've altered the chorus slightly to 7/8 time, which gives the melody and overall feel of this arrangement an extra sense of urgency. I, Travis Sullivan, blow an alto saxophone solo on this one to kick things off.

Venus as a Boy is from Björk's first solo album, appropriately titled Debut. This arrangement is an homage and exploration of more traditional big band writing, and is most definitely the "swinging-est" tune in the Björkestra book. It alternates between a swing feel and Afro-Cuban 12/8 feel throughout, which soloists Art Hirahara on piano and Alan Ferber on trombone exploit with a great deal of energy and finesse. The horns and vocals have a lot of fun interplay throughout as well, which captures the playfulness of the original Björk version. I arranged this song expressly for the 12 piece band.

Hunter is the first track on Björk's Homogenic and was arranged by trumpeter Kelly Pratt, one of the original members of The Björkestra. This piece features other-worldy electronic sounds from laptop programmer Ian Cook and Art Hirahara on synthesizer, as well as Kelly Pratt's moody trumpet solo that is evocative of Miles' Bitches Brew. Our phenomenal bassist Yoshi Waki starts this track off with an unaccompanied bass solo.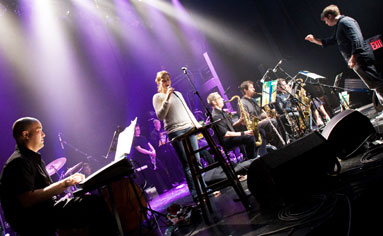 I Go Humble, this album's title track, is a B-side track that I'm only familiar with as a live version on Björk's "Livebox" set. It is also, in my opinion, one of Björk's most grooving dance tunes. We stay very faithful to the Björk version, the only addition being a quirky-chromatic-funky horn line which we all play in unison, and solos by Art Hirahara and myself.

Isobel is an instrumental arrangement for jazz quintet by another original Björk member, Sean Nowell. Sean takes this song, as heard on Björk's "Post" as a high-energy/open landscape sort of piece, and changes it into something much more moody, subtle, and understated. The quiet energy of the arrangement builds into a frenzy with a solo section for two saxes with Sean and myself, which gives way to Art Hirahara playing a beautiful unaccompanied solo on piano.

Army of Me is The Björkestra's most heavy hitting arrangement. I've re-harmonized the chorus of the song to provide release and contrast from the rest of the song, which features Björk's thumping bass line from her original version on Post. Sean Nowell plays a high energy tenor solo, and I play a solo that starts in a free jazz realm that gradually moves back to the main groove of the tune.
Unravel features the mellifluous voice of Becca Stevens, the laptop programming of Ian Cook, and Art Hirahara on piano. Becca's ethereal vocal quality lends itself beautifully to this haunting song, first heard on Björk's Homogenic album.

Joga is my favorite Björk song. Homogenic was the first Björk CD that I ever bought, and the organic sound of the strings matched with the electronic soundscapes convinced me that Björk was a true visionary. Here it is reconstructed as a jazz ballad, with a nod to the heavy electronica bridge section in the original version, during which I play a short alto sax solo.
-Travis Sullivan

Produced by Travis Sullivan & Robert Olmsted. Recorded at The Jazz Standard, New York City, March 3 & 4, 2009. Recording & Mixing Engineer: Robert Olmsted. Mastering Engineer: Trevor Sadler, Mastermind Studios, Charlotte, NC. Art Direction and Package Design: Jack Frisch.