Hendrik Meurkens' new ZOHO recording features the harmonica virtuoso and "New York Samba Jazz Quintet". Mr. Meurkens, a rather tall fellow who could easily be mistaken for a basketball player, except for the fact that there aren't any NBAsters expert at the Bossa Nova, Samba or Choro, also plays the vibraphone and writes notable melodies: four of the nine tracks included are his originals.

It's the unique amalgam of musicians and the music they play that have put Hendrik Meurkens and his group at the forefront of Brazilian Jazz. This live date, recorded a week before Christmas in 2005, was done at Cecil's, a Jazz club just a stone's throw from his New Jersey home. "We usually work as a Quartet," he explains, "and the more we play together, the stronger we get. But for this recording, I brought in Jed, and it was really a pleasure to have his flute and tenor share the melody lines."

Reedman Jed Levy, who served an apprenticeship with the late Jaki Byard, has played with everyone from Jack McDuff to Arturo O'Farrill. Hendrik praises his "tenor tone, as well as his melodic improvisations. He also plays great flute and I'm passionately in love with the flute."

Helio Alves' sensitive touch, dazzling runs and ability to make every solo memorable have made him the pianist of first call for Brazilian Jazz in New York since he relocated from Brazil via Boston in the early 90s. Since then, he's played with Joe Henderson, Airto and Flora, Gato Barbieri, Paquito D'Rivera, and Duduka Da Fonseca among many others.

"Helio has the rhythmic punch that's essential in this music, a pulsating drive that animates everything he plays," Hendrik believes. "He's also one of the few guys who has the Brazilian feel and is completely at home improvising Jazz. What's more, he's also a virtuoso, which is needed to play my Chorinhos, because he doubles all the melodies."

"I feel very comfortable playing with bassist Gustavo Amarante," Meurkens reports. The young Brazilian is equally at home playing Jazz, Tango and even classical music, having worked with a wide variety of musicians including violinist Nadja Salerno-Sonnenberg and Argentinean guitarist Luis Salinas.

"He's a great bassist," Meurkens continues, "because in addition to playing so well, he also has the right attitude. Whatever his role, whether supportive, or upfront, Gustavo is happy fulfilling the bass function, making the music sound good, and swinging like crazy. Berklee educated, he knows Jazz, changes and how to improvise, in addition to being totally in touch with his Brazilian roots."

Drummer Adriano Santos first played gigs with Hendrik Meurkens around the NYC area in the late 90s, and has been a member of the group for nearly three years. Santos' resume includes such well-known musicians as Eumir Deodato, as well as Paul Winter and the Boston Pops.

"We started working together consistently when my last CD, Amazon River, was released," Meurkens explains, "playing the repertoire from that recording." Brazilian born and also Berklee educated, Adriano has recently released a new book through Drummers Collective (where he is part of the faculty) called, "Afro-Caribbean & Brazilian Rhythms for Drumset."

A lifelong student of both Jazz and Brazilian music, Hendrik Meurkens pays careful attention to the group's repertoire, as is evident by the varied and exciting program presented here.

Vamos Nessa opens the session and features Hendrik's vibes. It was composed by one of Meurkens' favorites, João Donato, who is not very well known in the US. But for Hendrik Meurkens, Donato is "the major composer of Samba Jazz. Jobim wrote songs with lyrics that have become standards while Donato has written the great instrumental tunes for the Samba Jazz idiom." The track also features Levy's tenor, and is a favorite because, "like all of Donato's work, it's simple, catchy and great to blow on."

Hendrik's harmonica enlivens Djavan's Flor De Lis. "Djavan is one of the great Brazilian song writers, singers and guitarists," Hendrik explains, "and this composition is from the early period of his work. Like Jobim, Djavan writes tunes that are perfect for improvisation."

A Ra is another João Donato composition with a very catchy melody. "I usually play this on harmonica," Meurkens recalls. "But with Jed on tenor, I chose the vibes this time. Tenor and vibes is such a great sound!"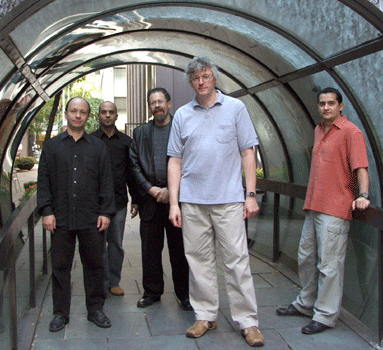 Hendrik Meurkens' New York Samba Jazz Quintet - from left : Helio Alves, Gustavo Amarante, Jed Levy, Hendrik Meurkens, Adriano Santos. Photo by Jack Frisch, New York, October 2006.
"One of my main tunes," the proud composer reveals, "and something people always request is Prague in March, which features the harmonica-tenor front line. Like all of Meurkens music, this rendition embodies a depth of beauty and simplicity that touches the soul.
Hendrik's composition, Mimosa, which is a Chorinho, appeared on his first recording, Samba Importado. "I have a book of original Choros," Hendrik explains, "fifteen so far. I chose to play this here because it sounds good on the vibes, and Jed's tenor adds an interesting element. The tenor-vibes frontline is a first for Choro music, think."
Meurkens returns to the harmonica on I Can't Get Started, a Jazz standard which perfectly lends itself to the Samba Jazz medium." Hendrik explains, "The thing about these great Jazz standards is that can be easily adapted just by changing the rhythm."
Menina na Janela, which means "The Girl in the Window," is another tasty Choro. It was first recorded on Amazon River, but "last time, my harmonica shared the melody with the bandolim, the Brazilian mandolin. Here, Jed joins me on flute."
A moving Meurkens' original, Bolero Para Paquito, which first appeared on his 1994 recording, Slidin', was written for Paquito D'Rivera, who has also recorded the song. "We share a similar story," Hendrik explains. "We both came from another country, Paquito from Cuba, and I came from Germany, both loving Jazz with the goal of moving to New York City. We became good friends and he's an incredibly inspiring person, with his attitude about life and very happy musical message."
The set closes with Jobim's classic Triste, which seems fitting because the music of Tom Jobim was Hendrik Meurkens' entry into the world of Brazilian Jazz. Not surprisingly, he cites the cross relationship between his two favorite idioms. "When Jobim and company developed the Bossa Nova, it was based on cool Jazz. Brazilian music and Jazz have a parallel development. Choro is a cousin to Ragtime, and Samba can easily be compared to early Jazz. They share the same influences at the same time, including the African elements. For me, playing Brazilian Jazz is one of life's greatest joys." -- Bret Primack
Produced by Hendrik Meurkens. Recorded live December 17th, 2005 at Cecil's Jazz Club, West Orange, NJ. Recording Engineer: Don Spaulding. Mastered at Symphonic Sound, Springfield, NJ. Photography by Jack Frisch Package design by 3 and Co., New York (www.threeandco.com). Executive Producer: Joachim "Jochen" Becker.
Hendrik Meurkens plays a Musser M55 Vibraphone and uses
Vic Firth Mallets.
Bookings : (973) 687 0194