Samba Little Samba is my second album created in partnership with Gabriel Espinosa. When we met a few years ago, it soon became apparent that we are sharing much of the same priorities: respect for the song, a love for strong melodies, and the desire to connect with the audience through our music. The success of our first ZOHO CD release Celebrando (ZOHO ZM 201204) was proof that we are on the right track.

Since both of us are composers the concept of our collaboration is that each brings in an equal number of originals, and then rounding out the repertoire with some choice standards. All this is based on the language of Brazilian jazz, but Gabriel being Mexican, and myself being of Dutch/German roots, our project is very different from my other Brazilian jazz outings. Gabriel's songs have a unique Yucatecan Mayan ambiance, something that I have not heard before in jazz. Combine that with my harmonica and there you go: a new sound is created….Yucatecan -Brazilian-Teutonic jazz!

Joining us on Samba Little Samba is the great Russian-born pianist Misha Tsiganov. Misha already recorded Celebrando with us and we are lucky to again have a new song of his on this CD. Misha can do it all; from Afro-Cuban to Brazilian to straight-ahead jazz to whatever else you put on his music stand. Oh yes, and of course Yucatecan -Brazilian-Teutonic jazz!

Adriano Santos is on drums on a number of tracks and he and Misha are members of my regular Samba Jazz Quartet, together with Gustavo Amarante. I have known Adriano for many years; we met on the New York scene ages ago. Adriano has recorded 5 CDs with my Samba Jazz Quartet, and we are crossings paths as sidemen on lots of other artists' albums. He has a sound all his own, a super solid and very swinging groove, combined with great taste.

The opener on this album is Samba Little Samba, which is the English-lyrics version of Sambatropolis, a composition that I recorded as an instrumental on Sambatropolis (ZOHO ZM 200801) and Live At Bird's Eye (ZOHO ZM 201114). Hong Kong-based singer Angelita Li wrote lyrics to it for a project we did a few years ago, and Alison Wedding and Gabriel are having their little "Elis & Tom" moment here. Their classic Aquas De Março recording has Elis Regina and Tom Jobim alternating the lyrics, and we are picking up on that idea. This is a samba and Adriano lays down a killing batucada on the final choruses.

Alison gives her all on Ocean Lights, another one of my compositions, here with lyrics by Sue Maskaleris. The song is melancholic and romantic, but it is very hard to sing, some tricky intervals in there. No problem for Alison, she aces it and still gives us the feel of complete relaxation and warmth, the mark of a true master.

Choro Da Neve features Anat Cohen on clarinet. It is well known that Anat is the leading young clarinet player on the scene today, and she also is a master of chorinho, my beloved Brazilian music genre. Like many choros this is not an easy tune, but no problem for Lady Cohen, she nails it!

A Night In Jakarta is my dedication to the people of Indonesia and to the hosts of the wonderful Java Jazz Festival. I recently added my own lyrics to the song and Alison sings them beautifully. Anat plays tenor, something that I had to push her to do. I know the issues that us doublers face every day, there is always one instrument that you are less comfortable on than the other. For me it's the vibes. Anat favors the clarinet, but I also love her tenor. I think she has her own voice, which is a big deal with all the legions of tenor players out there, and she gives my song a beautiful color.

Misha brought in Give Me Five, a wonderful composition in 5/4. Misha is a composer with a very personal language, deeply influenced by the Russian classical composers. Anat is again on tenor and between her sound, the harmonica, the voices, and his composer's touch Misha created something very beautiful and haunting.

I am now passing the pen to Gabriel to tell his side of the story. Enjoy the album, and look for us performing this music live. The Mayan-Brazilian-Teutonic sound is here to stay.
Hendrik Meurkens
New York, June 2014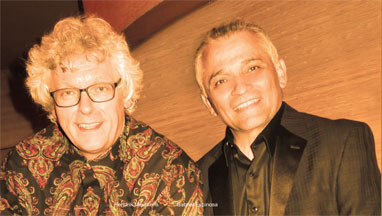 Hendrik Meurkens (left), Gabriel Espinosa (right)
First of all thanks to God for giving me the opportunity to record this project with these amazing group of musicians: my music co-leader Hendrik Meurkens, Alison Wedding, Adriano Santos, Misha Tsiganov, Antonio Sanchez, Anat Cohen, Tierney Sutton and Serge Merlaud. This project blends the compositional styles of Hendrik Meurkens with four tracks, Misha Tsiganov with one track, an arrangement of the great Mexican song Besame Mucho plus four of my compositions.
I have been exposed to the Brazilian music since the early 60's, when I fell in love with the beautiful melodies, harmonies and rhythms of the samba and bossa nova. That is why this project has such a Brazilian influence, mixed with some jazz and bolero. Special thanks to my co-leader Hendrik Meurkens for believing in the music of this Yucatecan-Iowa based musician! Together we have put this great project together called Samba Little Samba, so get your shoes on and get ready to dance! Last but not least, thanks to my wife Gabriela and my daughters Paola, Adriana and Natalia for their support.
Besame Mucho by Mexican composer Consuelo Velazquez was written in 1940, with English lyrics by Sunny Skylar. Velazquez wrote this beautiful song at the age of fifteen, before she had ever been kissed. She is considered Mexico's greatest-ever female composer. Besame Mucho is one of the most popular songs ever written and has been translated into more than 20 languages. The song has been recorded by some of the best singers and bands like: Jimmy Dorsey, Elvis Presley, Linda Ronstadt, The Beatles, Wes Montgomery, The Hi Lo's, Frank Sinatra, Sammy Davis Jr., Luis Miguel, Natalie Cole, Placido Domingo, Andrea Bocelli and Michael Bublé. I was inspired to craft this arrangement and very fortunate to have my friend Tierney Sutton sing the song with me.
Fe is a bolero dedicated to my daughter Adriana for her wedding. This was the father/daughter song at the reception. This song represents both how sweet and femenina, Spanish for the word "feminine", Adriana is. Hendrik and Alison do a beautiful job with the melody, and Misha adds lots of color with his piano fills.
Encuentro Maya tells the story of the encounter that Hendrik and I had in 2011 in Iowa, when we played together for the first time. Since we both love Brazilian music, this song had to be a light samba style. This composition features the lovely Alison Wedding on vocals, Misha Tsiganov on piano and Hendrik on harmonica with a fantastic groove by our Brazilian drummer Adriano Santos.
Euro 12: I love soccer, and during the Summer of 2012 I was watching some games, and this melody came to my mind with this kind of different groove. This composition features Alison and Hendrik with a superb drum solo by the best Mexican jazz musician of today, mi amigo Antonio Sanchez.
A Song for Ray is dedicated to my former professor Dr. Ray Martin. Ray is a jazz lover, and his son Joe Martin is one of the best bass players in New York today. I took some classes with Ray at Central College in Pella, IA and learned a lot about jazz from him. On this track, I invited the amazing clarinet player Anat Cohen to join the band. Alison and Anat sing /play some very simple and transparent solos that set a very nice gentle and soft mood for the song.
Gabriel Espinosa
Pella, Iowa, June 2014
Produced by Gabriel Espinosa & Hendrik Meurkens. Recorded December 10th & 11th, 2013 by Michael Brorby at Acoustic Recording, Brooklyn, NY. Mixed and Mastered by Dave Darlington at Bass Hit Recordings, New York, NY. Art direction and package design: Jack Frisch. Executive Producer: Joachim "Jochen" Becker.