"To Kill A Mockingbird" is the first CD release by the British teenage blues band The Malchicks, headed by Scarlett Wrench's haunting and dusky lead vocals, and George Perez's powerful, melodic, Spanish influenced blues guitar. With its darkly controversial cover art, its classic Blues repertoire recorded on vintage analog recording equipment, microphones and instruments, this album sounds and feels closer to something recorded in the 1930s and 40s. Most of Scarlett's lead vocals were recorded on the exact same Neumann U47 used by Jimi Hendrix at IBC Studios in 1966 and 1967! There is a depth, relevance and authenticity here which is often missing from the genre-formatted, clinical blues and R & B one hears today.

This CD grew into its present final form in a four-year recording process (described below), with the invaluable studio help, guidance and featured guest appearances of members of fellow ZOHO ROOTS artists The Pretty Things, and Arthur Brown.

The first 5,000 copies of the North American, ZOHO ROOTS label release of the CD includes original full-sized artwork by the Malchicks' Scarlett Wrench and George Perez, creating a collectors' item alongside the similarly artist- created artwork in the label's new Pretty Things and Arthur Brown releases.

Over four years in the making, dogged by personal tragedy and professional catastrophe, To Kill A Mockingbird finally sees the light of day. Teenagers Scarlett Wrench and George Perez have combined their personal experiences and immense talent to produce a record that draws all the passion and soul of 60s R&B, adding youthful vigour and fresh faced enthusiasm to the mix. Covering such classics as "I've Got My Mojo Workin'" "Baby Please Don't Go" and Bob Dylan's "Corrina, Corrina", the Malchicks are the new breed of UK blues – a fragile yet immensely important step forward.
This is a record that has literally been dragged back from the crossroads and somehow lives to tell the tale, with a story that comes straight out of a Robert Johnson composition. Dick Taylor (early Rolling Stones, founder of The Pretty Things) adores this band and has taken them under his experienced wing. The record was recorded at the legendary Cote Basque studios, home of the original Ronnie Lane Airstream mobile, responsible for "Quadrophenia", "Houses of The Holy", Stones albums, & most of The Faces classics.

Way back in 2004, The Malchicks (then called BirdWrench Hoffman) were destined for stardom. After performing at the media launch of the acclaimed The Blues DVD series (Wim Wenders, Clint Eastwood, Martin Scorcese), the then 14 year-olds were the toast of the British blues scene. Championed by the aforementioned Taylor and Bryan Morrison (Snapper Music, an important British Rock label), the band were set to release their debut album and begin the media frenzy that was about to happen. Then disaster struck, not once but for the next three years.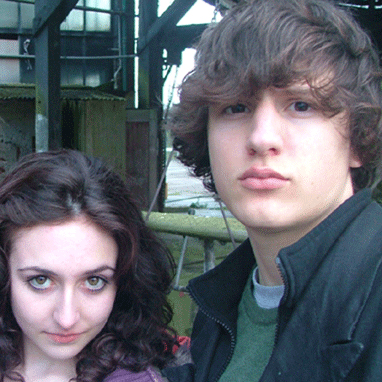 Scarlett Wrench & George Perez
First, the guitarist leaves due to parental pressure, and the record gets put back till they can find a suitable replacement. Step forward George Perez, a 14 year-old blues guitar enthusiast comes out of the blue from five miles away and cements himself in the band with the style and panache of an artist befitting such a young age. Things appear back on track and the record is slated for a '05 release in the UK.
Then bass player Will Wrench decides that blues music is not for him after all, and he too leaves. Then real catastrophe hits. George, besieged with personal family problems, is struck down with a mystery illness and is unable to attend the studio for months on end. At the same time, Bryan Morrison, the band's mentor, falls off a horse during a polo game and is taken to a hospital where he still lies in a coma. Snapper shelves the album, and the band, now a two-piece, are left shattered by the experience.
Thankfully these are not two ordinary kids. Unwilling to let their music be lost in the vaults of time, driven by the ever-supportive Mark St John at Cote Basque Records, they have managed to FINALLY get this record out. Under the guidance and patronship of Dick Taylor, a musician who has lived and breathed this music for forty years and whose involvement in this project is key to the whole story, the band are once again set for stardom. What we have in To Kill A Mockingbird is a record dogged by personal and professional bad luck that is now so embedded in the blues that these two teenagers speak with a knowledge and understanding of a music that has been blighted throughout time with tragedy and sorrowfulness. It's a truly remarkable journey and an equally beguiling testament to the blues spirit that resides within George and Scarlett.