Bertolt Brecht famously said that "art is not a mirror held up to reality but a hammer with which to shape it." With this in mind, the NYJAZZ Quartet takes on a number of pieces heard on Blue Divide that offer a musical discussion or debate on numerous issues from past and present. The improvisations that compliment these tunes tell a story by exploring issues in a way that can only be accomplished by members of an ensemble who have performed together for over two decades. Our first priority is creating and sharing some good music. If our treatment of this music inspires listeners to begin their own debate, then we will successfully hold true to Brecht's vision for shaping reality, and our own vision for future audiences to experience this music as an evolving art form inspired by the present day while still keeping the traditions of this music alive.

Recorded the day after returning to New York City from a West Coast tour, we began the recording session by simply conversing. The short open improvisation that begins the recording, and is aptly named Prelude, is a visceral example of what this music is about - four friends gathering together, exchanging initial ideas with each other and the listener, and tuning themselves up both literally and figuratively for the musical discussion soon to follow. This improvisational section segues into our bassist Carlo De Rosa's Pasillo Azul, Spanish for "blue hallway". It was inspired by a piece taught to Carlo by guitarist Jim Hall. It captures the essence of a blues but also offers an unsettled feeling through the use of altered chord changes.

Davey's Dreams is a piece I wrote for Davey Schildkraut, a saxophonist most known for his recorded work with Miles Davis on the tune Solar, and as the lead alto player with Stan Kenton. There are many artists who never reach a position of mass acceptance or popularity for any number of reasons. Despite his time spent with Charlie Parker, Buddy Rich, and Tito Puente, Davey is one of those artists whose story never really made it into the history books. However, his long lasting influence on the first generation of Bebop musicians and those to follow is beyond measure. I spent countless afternoons with Davey over years of study and friendship that lasted well into the evenings, and I consider myself incredibly lucky to have been able to get inside the music and the mind of this unsung hero and genius of Jazz.

Dispossession is a piece I wrote based on travels to the Middle East where I experienced both sides of a conflict that has either simmered or raged for decades. The term dispossession means the act of depriving an indigenous population of their land either by removal or occupation. The conflicts that emerge from these actions can be felt by the unsettling use of varied time signatures used in the beginning of the piece and by the constant trading of ideas between the soprano saxophone and piano during improvised sections.

Knowing is another piece written by bassist Carlo De Rosa and it offers us a chance to explore a more introspective space. It was composed to reflect the first time something is deeply known to a person. This can be translated or applied to many circumstances depending on each individual listener. Yet wherever this is felt, it is a universally held truth that is beyond a mere feeling or fleeting thought, and it tells us just as much about ourselves as how it relates to those around us.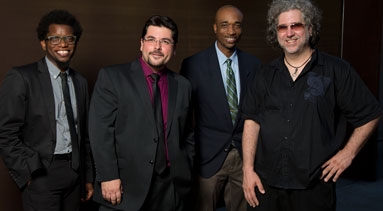 G's Waltz was written for my daughter Gabriella and included on this CD as a stark reminder of why we need to examine the issues of the day explored on some of the other pieces on this recording. These issues will have countless repercussions on our future generation, and it is important to recognize that our children will have to face the consequences of our actions. I wrote this piece as a playful waltz that simply reflects a childlike simplicity and curiosity to the world around us.
The 1986 film Round Midnight that included Herbie Hancock's Still Time marked a significant time in my life as a student of Jazz. It was also released in the same year that I first met fellow NYJAZZ Quartet member Eric McPherson. Before the days of YouTube, we either saw our heroes live on stage or on film. Round Midnight provided the definition of how music could be used to tell a story, especially as the wonderful musical performances shared the starring role with the complex challenges experienced by the people who created it. Dexter Gordon, Herbie Hancock, Wayne Shorter, and all the other artists in Round Midnight made a tremendous impact on many young artists of my generation and on future audience members to follow.
Taksim reflects how a park protest in Istanbul quickly grew into a nationwide movement speaking out against government policy. I was in Turkey in 2013 during these protests and had firsthand experience of what defined this movement and how it was misrepresented in local and international media. Out of the many countries I have visited, I have rarely felt so welcomed and connected to a culture as I felt in Turkey, whether among their artistic world or while speaking with the wide cross-section of people I met on Taksim Square and in Gezi Park. Interestingly, the Turkish word Taksim means division, and it can also refer to the Arabic word Taqsim, which means melodic improvisation before a musical composition. The concept that I explore in this piece reflects the universal divide occurring in many parts of the world. This includes the divide between the priorities of the people and their ruling party; the divide between knowledge and ignorance brought on by financial or ideological interests; and how these interests permeate the divide that many are currently experiencing in the economy, in politics, in education policy, and in the arts.
- Rob Derke
Produced by NYJAZZ Initiative, Inc; Rob Derke, Director. Recorded March 22, 2013 at Avatar Studios, New York, NY; Anthony Ruotolo, Engineer. Mixed and Mastered at G&J Audio, Union City, NY; Gene Paul, Engineer. Photos by Jimmy Katz. Package design by Jack Frisch. Executive producer: Joachim "Jochen" Becker.